(Family Features) With lower temperatures and milder conditions, fall provides a perfect opportunity to tackle that home renovation to-do list. Whether you plan on making minor improvements or wholesale changes are on the horizon, taking on a few DIY projects can help you boost your home's curb appeal (and its value) while also prepping for colder weather in the days ahead.
Making investments now – like putting time and money toward long-term energy efficiency – can pay off down the road, whether you're planning for a potential sale or simply looking to get more enjoyment out of your home. Plus, many exterior upgrades can be completed by homeowners, meaning there's no need to hire a professional when it's time to give your home a refresh.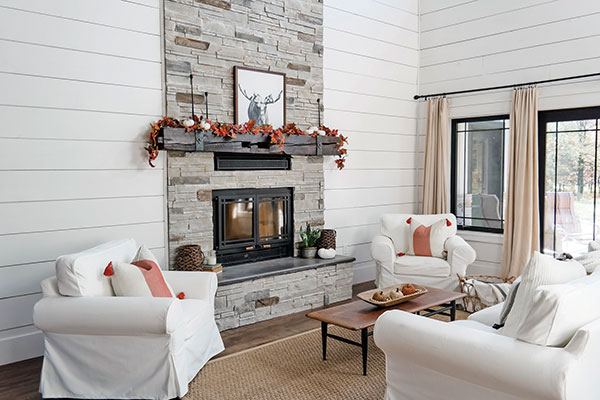 Beautify those dull areas, boost resale value and add comfort with these ideas from the experts at Westlake Royal Building Products, a manufacturer of high-quality, low-maintenance products designed to meet the specifications and needs of building professionals, homeowners, architects, engineers and distributors.
Add or Replace Shutters
As a classic exterior design element, shutters can add instant charm to your home. With a variety of materials and colors to choose from, you can add shutters that suit your style and budget to give your home a more polished look. If it's already adorned with shutters, consider updating them with newer styles for a fresh appearance.
Upgrade with Stone Veneer
Natural and textured home trends continue to rise, leading many building pros and homeowners to gravitate toward stone veneer, or manufactured stone, as it can replicate the look of real stone. The wide range of exterior and interior applications means you can add comfort, character and beauty while complementing your existing style. Consider an option like Versetta Stone from Westlake Royal Building Products, which offers homeowners an authentic, hand-crafted look in a panelized format that's easy to install with nails and screws. There's no need to paint, coat or seal once installed for a low-maintenance solution for accent walls, fireplaces, siding, entryways and walkways.
Refresh Porch Columns
Routine cleaning is one way to maintain porch columns, but if they're rotting or splitting, consider PVC porch column wraps for a visual transformation. Easy and often affordable, they're durable and decorative to fit existing columns or poles and can be painted to match your exterior color palette. They're resistant to pests, moisture and weather damage for long-lasting and nearly maintenance-free upgrades.
Invest in Insulated Siding
Good insulation is key to keeping your home warm, cozy and weather-proof during colder months. While there are many ways to upgrade the insulation of your house, some homeowners are turning to insulated siding for a long-term solution. Long-lasting, weather-proof, durable and aesthetically pleasing, CraneBoard Solid Core Siding from Westlake Royal Building Products offers a cost-efficient way to beat the cold. It's low maintenance, built to last and withstands temperature fluctuations and hurricane force winds for a highly functional option to keep cold out for years to come.
Update the Driveway
Whether you're looking to make some simple updates or it's time for a complete renovation, showing your driveway some love can significantly improve your home's curb appeal. Adding an address post with a hanging basket or planting trees, shrubbery or flowers along the sides lends immediate aesthetic improvement. For added low-light visibility and visual appeal, install lights along the perimeter to help the greenery stand out in the evening. If you're ready for a major overhaul, consider upgrading the driveway using cobblestone, pavers or stamped concrete.
To find more ways to boost curb appeal this fall, visit
WestlakeRoyalBuildingProducts.com
.